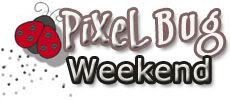 It has been a long time since I joined PB due to a very busy schedule and my crazy boss LOL. Anyway I promise to try and keep up with the postings every week.
Anyway, last sunday we gave in to my daughter's request to go swimming and take a picture of the pool. Whenever we pass by the resort my daughter would always say, "I wanna go there, go swimming and take picture of bea and swimming". So we allotted the wholeday of sunday just for bea, At first she got scared of the rides but we assured her that there's nothing to be afraid of because daddy is with her.
With daddy playing by the end of the pool.....
So happy baby.....