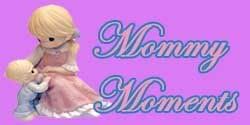 This is my first entry for this weeks theme for Mommy Moments, and as you can see I was so excited in joining that i posted my blog a day earlier =).
The above picture was taken during bea's 2nd birthday... our theme was disney's princesses so I thought it would only be appropriate for my baby to be in full costume.... A flowing royal blue gown ( which i bidded on ebay) with matching silver shoes and crown.... That's how i love doing things for my daughter everything complete! Don't we look adorable in our matching blue outfits?
The above pict
ure was still at her birthday reception while we are welcoming her guests...
This is taken a month before her birhtday, we were having a dress rehearsal and photo shoot to be used on her birhtday invites and tarpauline =).
This is a photo of my bea's first holloween costume party that we attended... She is dresed up like a pixie fairy =) i also bought her costume on ebay since it is much cheaper there rather than buying on the stores here in the island..
As you can see, when it comes to my baby I always put extra effort on everything i do for her.... Doesnt all Mom's Do? LOL...
This is my post for this weeks theme? Share us your experience and joing Mommy moments now..... I am just starting out but i can't wait on doing it every week...
P.S.
As i was saving my cam pics on my flash drive i saw this old pictures of bea when she was 17 months old, we are going to my God daughters birhtday party and i just have to dress up my daughter LOL...