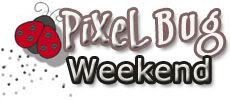 This is the first week of Pixel Bug Weekend and I am so happy to be invited to join =).
My weekend is usually routinary especially on Saturdays, when I get to stay at home with my bea 'coz my hubby works during saturdays. It is also the time for me to do all my chores for the week like laundry, clean the house and etc. and to top it all I also need to tend to a very naughty little girl =).
On Sunday, my neigbor ( who is a co-worker of my hubby) asked me to go with her to a garage sale of my friend, she is moving to another state with her family that is why she needs to downsize their things. It was a gloomy sunday and it was really raining cats and dogs by the time we reached our destination. It was a good visit since aside from the free stuff we got from my friend/kumare josie we also had free breakfast =).
By the time we got home, it was so foggy that I cannot get a good picture of the coconut tree and the sky ....